Amber Solis, LMT, CRP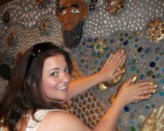 My Therapeutic career began with Reiki in 2006. I studied Reiki levels I and II under Reiki Master/Teacher Linda Jean Isele in North Brunswick, NJ. I have my sights set on Master level (which is only one step away). I witnessed profound changes in the lives of the people that I had the honor to work with and wanted to help even more.
I then obtained certification as a Direct Support Professional, teaching individuals with mental and physical handicaps how to live independently in their own homes, how to get involved in the community, and supporting them in becoming strong self-advocates. I also worked with many of the same consumers as a certified Home Health Aide.
In 2011, I decided to add more therapeutic tools to my toolbox and completed 650hrs of Massage Therapy at The Institute of Therapeutic Massage and Wellness in Davenport, IA, where I also obtained certification in Si Bonita Facassage©™. I also have studied Advanced Anterior and Posterior Neck techniques, Whiplash, TMJ/TMJD, Sports Massage, Acu-Cupping Massage, Table Thai, and Aromatherapy.
Family is a big part of my life. I have two boys (9, 1) that keep us pretty busy! Maintaining a healthy lifestyle is also important to me and I enjoy finding new and creative ways to do just that!
También hablo Español!
"As a Massage Therapist and Reiki Practitioner, I am dedicated to the wellbeing of my clients. My goal is for each client to walk out of my office feeling better physically, emotionally, mentally and spiritually." - Amber Solis, LMT